If you have read my blog in the past you will know that I just love the All About Spelling program! Click here to order and click here to see why it works so well.
I have just ordered the All About Reading program as well. I am excited as so many things I have tired have just not worked. I really looked into this program and I think it is just what I am looking for. You can look here and see sample pages.
If you have a struggling reader, or even just lack the time for much preparation, then this should work for you.
With every question I have, they send me a very personal email with links to how I can be helped. That personal touch is huge. Recently they sent me a link on how to how help my son with the b & d confusion. I can't wait till he wakes up to teach him.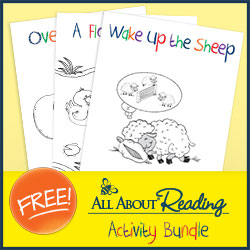 So there it is mama and daddy's! Check out this program by clicking here or the banner for a freebie!