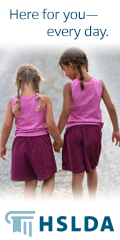 Here is a great reason to get a 3 month free membership to The Homeschool Legal Defense Association (
HSLDA
).
It's and E-Event! And it is only free when you are a member. Click here for your free membership.
A visit from a truant officer or social worker ranks fairly high on the list of things homeschool families hope will never happen to them. But there is no need to fear if you understand your rights, the law, and how to interact with these government workers.
They have a job to do—and so do you! Join HSLDA attorney and homeschooling father Mike Donnelly as he addresses the most frequent issues homeschoolers face when dealing with school superintendents, principals, and social workers. Don't miss this practical discussion of how to appropriately handle encounters with civic authorities—no matter what the situation!
Please note, while this e-vent is provided free of charge as a benefit to HSLDA members, we are also excited to make this crucial information available to nonmembers for $9.95.
I unfortunately wont be home at this time. Uggh! But maybe I will take my computer with me and pray I can get service.
You only have till March 31st to get in on this special deal for free membership so head on over and sign up now!
Click here.