I am not sure if you know this or not, but if you are a homeschool parent you can get a card for 15% off at Jo-Ann's Fabric. That is 15% off everything, even sale items and items you used a coupon with. To prove you are a teacher you need a homeschool card. Well I have the perfect way you can get that card for free.
There are 8 days left to sign up for the HSLDA free membership. It will last 3 months and is so worth it. You will get a membership card when you join. Take that card to Jo-Ann's and sign up for their teacher program. Woot! Now you have a card that saves you big bucks. And every so often Jo-Ann's will send you a postcard for 20% off instead of 15% off everything just for being a teacher. Can't beat that.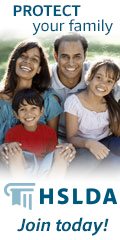 So sign up for HSLD via this link please. Click here. If I get enough to sign up I will get a free year membership next year. That will really help us out too. Thanks!!